MY HOYT ANCESTRY PAGE
WELCOME!

(1-20-17 Update Version)
(Added 2016 Christmas Cards & Update Letters of Family & Friends)

(Changed Hoyt Gedcom World-Hoyt's)

(Added Newspaper Axxount of Frederick M. & Jane (Forby) Hoyt's Titanic Survival Story)

(Updated changes to Hoyt Descendant Gedcom files, etc.)

(Added Updated World Simon Hoyt/e Pedigree Tree Chart 11/14/09)

(Updated Titanic Hoyt's to 3)

(Updated Reunion Photo Remus, MI c.1914)

(Updated gedcom date)

(Added Simon Hoyt Photo Traits Slideshow)

(Added 2007 J & B Hoyt Chrsitmas Letter)

(Updated the 20 Gen, of John Hoyt Descendant Outline)

(Updated Ged files)

SIMON HOYT TRAITS BY PHOTO SLIDESHOW
-------------------------------------------------
2016 Christmas Cards & PhotoCards & Family Update Letters
World - Simon Hoyt(e) Pedigree Tree Chart gedcom (.ged) file
Our Hoyt-Hoag & Hoyt-Mericle-Belt families &,

Other Simon Hoyt Relations have ancestry that is linked to Royalty, Biblical, Roman, Charlemagne, Magna Charta &,

Mayflower Pilgrim & Mayflower's Compact Signees, like; John Tilley, Edward Tillry & John Howland Also View "Map.html"
-------------------------------------------------


* ( Identification Piracy Rules Now in Effect, see note below)

Our SIMON HOYT BRANCH ANCESTRY PAGE
AND OUR 63 YRS. of HOYT RE-UNION PHOTO'S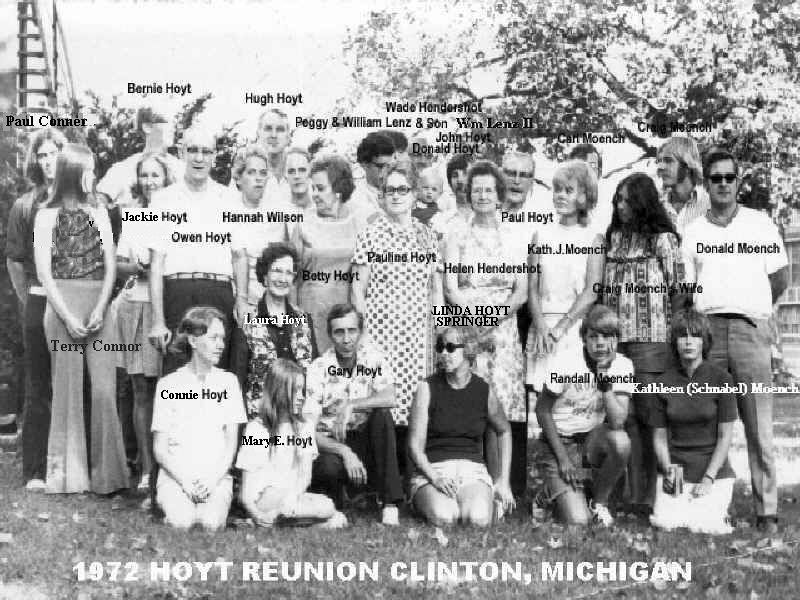 GEORGE G. & HUGH P. HOYT DECENDANTS & RELATED FAMILIES" RE-UNION in CLINTON, MI in 1972

(MORE RE-UNION PHOTO'S BELOW)

TIMOTHY HOYT FAMILY of SIMON HOYT Branch, HISTORY TREE / GEDCOM FILES for Downloading & Viewing (ged browser)
1880 Household Record LDS - View the George G Hoyt Family - Seville Twp, Gratiot Co, MI Map - Elm Hall, Gratiot Co., MI Map
Gratiot Co., Seville Township History Link
--------------------------------
John E. Hoyt Family History TREE Chart - CREATED by GEDBrowser -->
JOHN E. HOYT TREE CHART or FAMILY TREE CHART - INDEX PAGES
Tree Chart with Family Heads in Mini-Photo's. TREE PHOTO MAP HOYT TREE MAP - Plain w/ Links
Timothy Hoyt Linage Family History TREE Chart by Person as of PEOPLE LIST
Surname Lists of Persons in My Hoyt Family History TREE as of : SURNAME LIST
John E. Hoyt Gendex File DIRECT LINAGE GENDEX FILE

VIEW The 20 Generations of the DESCENDANTS of John, (John*, Thomas*), Thomas, Thomas to Michael to Simon (2601) HOYT, Hoyte, Hoit, Hayte, Haight, Hight Families Tree
NEW VERSION, as of 09-03-10
(1 - 30 Pages) (goto: Edit Tab; then Highlight & Click on 'Find'; to locate yourself, & others in this 'Hoyt' descendant pages)

* Supplanted names of John or possibly Thomas to fill in generational gap in Genealogical History from the Patriarch, 1st known John Hoyt, the Baker at Curry Rivel, in Somersetshire, England.

ANCESTRY.COM HOYT MESSAGE BOARD ANCESTRY.COM HOYT MESSAGE BOARD
COMPLETE SIMON HOYT/E (Paternall & Maternal) (ws-ftp-hoyt-simon.ged) - 23.2 MB's SIMON HOYT/E LINEAGE GEDCOM FILE
OUR TIMOTHY HOYT (3341) file (ws-ftp-hoyt-timothy.ged) - 3.5 MB's - TIMOTHY HOYT LINEAGE GEDCOM FILE Updated on 01-01-12
OUR WORLD-HOYT GEDCOM FILE (ws-ftp-hoyt-world.ged) 32.2 MB's: 103,362 Individuals, 39,907 marriages w/o Notes & Sources.
Please Email Me, as too large for emailing, Updated 10/05/2014. 57 MB's w/ Notes & Sources
SPECIAL DOCUMENTS & WEBSITES FOR "HOYT' RESEARCH
The principal source for these Genealogical files is from the: "Genealogical History of the Hoyt, Haight, & Hight Families, published by Providence Press, Boston; Authored by David W. Hoyt 1871

Hoyt Coat of Arms - 1.6 MB' WinZip file
Hoyt Documents - Births-Marriages-Deaths-Obits-News Articles - 15.5 MB's Please e-mail for this File
***NEW VIDEO'S of NOV. 2002 OF HOYT ROOTS***
Each of STANTON, REMUS, & MUIR, MI
( Hoyt's in Clinton, Deerfield, Tecumseh MI Videos to be done in 2003 )
( Hoyt'a in New York State and CT to be done in 2004 )
===========
( Please write or E-mail for a Cd of each, or All., include address )
Videos in (.avi) and (.wmv) formats


THE 6 HOYTS LISTED ON "THE VIETNAM WALL" in WASHINGTON, D.C.
(Click on above heading to place 'Hoyt" in Search box at Web Site)



Info View Last Name * First Name Panel Row Service Home Town State
HOYT ARTHUR JAMES 57W 027 ARMY MARS HILL MAINE

HOYT ERVIN JAMES 52E 004 ARMY KEARNEY NEBRASKA

HOYT LARRY LEONARD 38E 068 MARINE CORPS COBLESKILL NEW YORK

HOYT LAWRENCE WILLIAM 10W 076 MARINE CORPS CATO NEW YORK

HOYT NORMAN LEE ROY 10E 128 MARINE CORPS MOUNT MORRIS MICHIGAN

HOYT VICTOR RONALD 13E 084 ARMY PONTIAC MICHIGAN


R.M.S. Titanic- Hoyt Passenngers

Frederick Maxfield Hoyt
Frederick Maxfield Hoyt (38) of New York, NY travelled with his wife Jane Anne
(35). Their eventual destination was to be Stamford, CT. The couple boarded the
Titanic at Southampton and were rescued together in Collapsible D.
In his later years, he was a member of the Larchmont Yacht Club, the same club in
which fellow survivor, Harry Anderson, was also a member.
Newspaper Account of Their Titanic Misfortunes & of Miraculous Survival
--------------------------------------------------------------------------------
Mrs Frederick Maxfield Hoyt
Mrs Frederick Maxfield Hoyt (Jane Ann Forby) (35) of New York, NY travelled
with her husband Frederick Maxfield Hoyt (38). Their eventual destination was to be
Stamford, CT.
The couple boarded the Titanic at Southampton and were rescued together in
Collapsible D.
--------------------------------------------------------------------------------
William F. Hoyt
Mr William F. Hoyt was a former resident of Cleveland, Ohio and the son of Charles
E. Hoyt. He had been the captain of the Lakeside Bicycle Club and was also
connected with the Lozier Bicycle Company. William Hoyt was connected with the
Sterling & Welch, Co. and was a resident of New York City. He had been going to
Europe for several years as a buyer for the Houghton, Lee & Hoyt Company. He was
returning from Europe on one of these trips, boarding the Titanic in Cherbourg and
travelling in first class.
William Hoyt was heavily built and the survivors of Boat 14 struggled to haul him out
of the water. He was bleeding from the nose and mouth, and probably suffered injuries
from depth pressure. Fifth Officer Lowe reported "After we got him in the boat we
took his collar off so as to give him more chance to breathe, but unfortunately,
he died. He was too far gone when we picked him up." He was buried at sea by
sailors from the Carpathia. His brother travelled to Washington, DC to ask crew
members if they knew anything about his brother but without success.
Credit: http://members.fortunecity.com/titanicevidence/history/1stclass3.htm

MORE HOYT RE-UNIONS
(Click each photo thumbnail to view larger image)
| | | |
| --- | --- | --- |
| | | |
| c. 1914 Remus, MI | c. 1929 Remus, MI | c. 19?? Remus, MI |
| | | |
| | c. 1944 Clinton, MI | 1977 319 Clark St. Clinton, MI |
(Click each photo to view larger image)

* Privacy & ID Piracy Rules are now in effect for individuals born after 1930. I have had to drop dates and notes for persons between that time of 1930 and the present year, unless they have a death date.
Thank You for understanding.
--------
IF YOU WANT A FULL GED FILE FORMAT (.GED) OF THE LATEST VERSION, WITH ALL THE CURRENT NAMES, DATES, PLACES, MARRIAGES, NOTES, & SOURCES,
PLEASE EMAIL ME FOR APPROVAL TO RECIEVE A COPY AT