9th Gen. CARRIE MELVINA (HOYT) COLEGROVE PAGE
"Our Oldest known Hoyt"
WELCOME!

HOME
(01-05-2020 Updated Version)

(Updated Author's New Email at Bottom)

(Fixed Cemetery Links)
(Added Hoyt Sisters Photo of Carrie, Ada & Bessie (Emma), from the Gerry Sparling Collection)
(Added New Flash Slidershow of 08-23-07 Remus Trip tour)
(Added New images and movies of Colegrove & Hoyt homes in Remus, MI)
(Added Wm D. & Carrie (Hoyt) Colegrove home in Remus, MI, photo taken 03-29-07)
(New 100th Birthday Photo and text from Remus Area Centennial 1877-1977, pg75)

"A DEDICATION TO OUR OLDEST HOYT
CARRIE MELVINA (HOYT) COLEGROVE"
B. APRIL 14, 1877 D. JANUARY 10, 1984
106 3/4 YRS. OLD*
* (Trivia Note - Oldest Michigan born person was Maude Farris-Luse, passed at 115 yrs. old)
COLEGROVE FAMILY ZIPFILE - 0.8 MB's
CARRIE'S PHOTO'S
Carrie Melvina (Hoyt) Colegrove - Certificate of Birth
* The Cert, of Live Birth is a rare occurance, as Parents Registered her 1 1/2 yrs. later after they have moved to Elm Hall, Gratiot Co., MI. It was correct with York, MI, as the township in Washtenaw County, going in the S.E. part of City of Saline, Washtenaw Co., MI , where the Grist Mill was located about 1/2 mile S. of present U.S.12 & The Mill and Dam there.
Carrie's father, George G. Hoyt, at the time of Carrie's birth, was working with his father Jonathan G. Hoyt in the Saline Mill. Elizabeth was 2-3 months pregnant with Jonathan Gerould Hoyt, b. 03-31-1879.

William Dana & Carrie M. (Hoyt) Colgrove Residence from about 1908 -1940, taken March 2007
333 S. Sheridan, Remus, MI / (Many Hoyt Reunions were photohraphed here)
(with singer Kelly Gilmore & band, in background Music)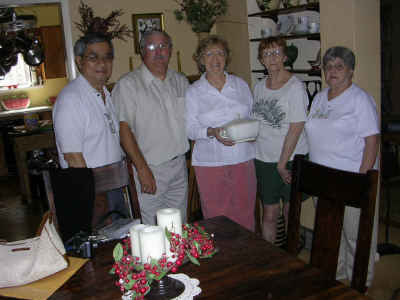 Geroge & (cousins) Jackie (Hoyt) Saito, Linda Hoyt, & John Hoyt
Visit Remus, MI on 08/23/2007, owners of Colegrove home & Hoyt home gave us tours and a surprise gift, from Carrie (Hoyt) Colegrove, her Soup Turin, given by owner, Kelly Gilmore, which came from Elsie Packard, who received it from Carrie many years ago..
(Click Tiltles above and below to view images)
Courtesy of Kelly Gilmore, Jamie & Elsie Packard
(with singer Kelly Gilmore & band, in background Music)
--------------------------------
COPY of MARRIAGE LICENSE OF WILLIAM D. COLEGROVE & CARRIE M. HOYT


SPECIAL 100th BIRTHDAY CELEBRATIONs with son, William Dana Colegrove, Jr.
105th Birthday Celebration with son William Dana Colegrove, Jr.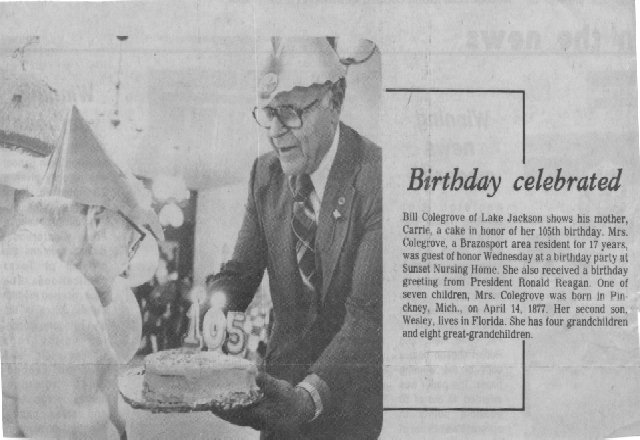 A young Carrie Melvina Hoyt


SISTERS CARRIE MELVINA & ELIZABETH ISADORE HOYT (Bessie)


POSTCARD from Aunt Carrie telling of Bessie's death




~~~~~~~~~~~~~~~~~~~~~~~


OTHER PHOTO's
(Click thumbnails below to view larger image)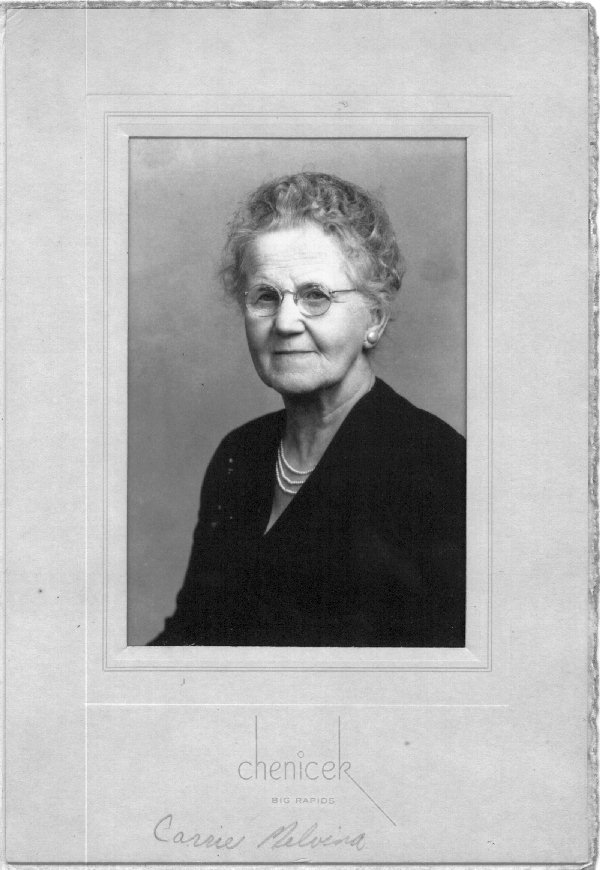 Paul M. Hoyt, with his Aunt CARRIE MELVINA (HOYT) COLEGROVE
Photo taken at 319 Clark Street, Clinton, MI. in 1969


CARRIE MELVINA HOYT was born in Saline, Wastenaw Co., MI
CARRIE died at: Brazosport, Sunset Nursing Home, Clute, Brazoria Co., TX
burial: Cremation
Carrie Melvina (Hoyt) Colegrove - Certificate of Death
(Click on above image to view larger image)



>>>>>>>>>>>>>>>>>>>>>>>>>>>>>>>>>><<<<<<<<<<<<<<<<<<<<<<<<<<<<<<<<<<
CEMETERY SECTION
COLEGROVE'S in Mecosta Co., MI Wheatland Township, WAMBOLD CEMETERY, Remus, MI (Also Hoyt's & Gerould's - See Cemetery's Page)
View 48 Image Index of Cousins cleaning & photographing

Wamboldt Cemetery of Hoyt's & Colegrove's & Village of Remus, MI - 03-29-2007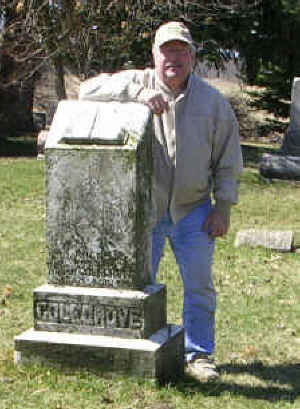 John E. Hoyt
Click on image above to View larger image of Blanche M. (Clapp) Colegrove (1st Wife of Wm D. Colegrove)
Carrie Melvina (Hoyt) Colegrove - (2nd Wife) (Cremated in Pearland, TX)
1877-1984 - lived 106 3/4 yrs.


William Dana Colegrove
1882-1919


Stephen Dana Colegrove
1855-1931


Helen Louise (Hatfield) Colegrove 1862-1936

New Addition
REMUS AREA CENTENNIAL BOOK 1877 - 1977
PAGES WITH HOYT'S & COLEGROVE'S LISTED
Page 75, 78, 120, 120a, 126, 128, 129
(Click above Highlighted page number to view)
*Credit to Ray & Ann Simon Renus, MI, for the extra Centennial Book -jeh

>>>>>>>>>>>>>>>>>>>>>>>>>>>>>>>>>><<<<<<<<<<<<<<<<<<<<<<<<<<<<<<<<<<