8th Gen. GEORGE G. & ELIZABETH ADELINE (GEROULD) HOYT PAGE
WELCOME !
HOME
(03-20-2020 Updated Version)
(Found and added 3 1976 images of the 2nd Remus Flour Mll rebuilt after Easter Sunday Fire in 1941 of G.. Hoyt & Sons Mill - Hoyt's were in Clinton, MI)

(Edited rootsweb links for Francis Colegrove Descendancy, as rootsweb has changed it's URL Program, AND, Updated Author's New Email at Bottom)
(Added Updated 19-20 Gen. Hoyt Descendant Outline)
(Privaxy Changes)
(Added image Gallery of 08-23-2007 Colegrove & Hoyt homes tour of Remus, MI)
(Added Thumbnail Gallery images of Gratiot County MI History of 1913)
(Added Visit to Remus and Wamboldt Cem)
~~~~~~~~~~~~~~~~~~~~~~~~~~~~~~~~~~~~~~~~~~~~~~~~
My previous 7th Generation of my Hoyt Line is at link: johnghoyt1.html
~~~~~~~~~~~~~~~~~~~~~~~~~~~~~~~~~~~~~~~~~~~~~~~~
---------------------------------------------
A short biography-history of the family of

George G. & Elizabeth Adelle (Gerould) Hoyt


George & Elizabeth Adelle moved 6 times. They were married in Muir, Ionia County, MI.. Here George worked in the Anchor Mill with his Father, as well as, being farmers, as they bought lands just North of towns proper, and here, G. Marcus & Hugh P & Elizabeth Isadore (Bessie) were born. The family removed with his Father's family to Saline, York Twp. MI by 1875, to help his Father Jonathan G & Isadore Hoyt, operate the York Mill, and by 1879, Gerorge G & Adelle, had removed to Elm Hall, Gratiot Co., MI, (View the index of Elm Hall Gratiot Co., MI, below, in black box, last), to run Grist Mill which had a sawmill adjacent to this river operation, and they, then, had 3 more children, the last being in the village of Mack City or Curtissville, Oscoda Co., MI, in 1884. He then came to Stanton, MI where Hugh P. Hoyt Graduated from High School in 1889. And, Geo. Marcus, the oldest son, remained in Saline, MI all the while, as he graduated from Saline H.S. in 1888-89, and worked on a logging train to Rose City, MI, where he met a doctor, to become a pharmacist, and meet his wife, Abigail G. Rose. George 'Gerald', ran the Stanton Roller Grist Mill in Statnton, (pictured in drawing below). Here, before it burned down in 1896. George & Adelle and Family of Carrie, Earmest & Jonathan G, Jr & Ada Fredrica moved to Muir, Mecosta Co., MI to purchase & operate the G.G. Hoyt and Sons, Grist & Flour Mill, by 1897. Hugh P & Katherine (Hoag) married in Saginaw in 1898, and immediately moved to Muir, to buy a home site in town, (View Remus map below for Hoyt homes), and begin managing the G.G. & Hoyt's Mill, since he graduated from first cklass at C.B.C. (Cleary Business College) in 1893. The first child of Hugh & Katherine died stillborn, in 1899, then my father, Paul M. Hoyt was born in Remus, MI in 1900, and Ruth Gerald Hoyt followed in Remus, in 1903. Hugh P. & Earnest E. Hoyt helped run the Mill.In 1903, Hugh P & Katherine removed to Deerfield, Lenawee Co., MI to operate a Grist/Flour Mill, and Ada Francis Hoyt was born in 1904. George Greenwood, nickname of 'Gerald', and son, Earnest E. Hoyt sold the Remus Mill in 1906. Geroge G. retired, and died on December 4th, 1922, aged 76, and is buried S. of town in Wambolt Cemetery, Remus, MI. Earnest E. then went to Pinckney, MI, to help in mill operations, then, was asked by Hugh P. Hoyt in Tecumseh, Lenawee Co., MI, to move there to help him run the Hayden Milling Co., between 1906-1910, then, both relocated to Clinton, MI to purchase and be head miller at Atlas Milling Co., in 1910, until their deaths. Earnest E. was killed in the mill, in 1952, in an accident with his clothing, caught in the moving belts. Hugh P. followed 11 months later of a heart ailment and had diabetes type 1.
-Elizabeth Adelle lived to age of 94 1/2 years, passing in 1948. She had visited Clinton MI, many times and enjoyed her many grandchldren & great grandchildren. She was strong in family ways & upbringing, and a very Christian women.

==================

VIEW The 19-20 Generations of the DESCENDANTS of John to Thomas
to Michael to Simon (2601) HOYT, Hoyte, Hoit, Hayte, Haight, Hight Families Tree (.pdf)

(1 - 30 Pages) (goto: Edit Tab; then Highlight & Click on 'Find'; to locate yourself, & others in this 'Hoyt' descendant pages)


==================


PLEASE READ THE INSTRUCTIONS
IN THE START PAGE FOR YOUR BEST WAY
TO ENJOY VIEWING & READING THE SLIDESHOW..THANK YOU:
AT PAUSE, You can manually Advance, using (Next) or Backup (Previous), each slide..jeh
(BELOW SLIDESHOW MAINLY FOR HIGH SPEED INTERNET USERS)

NOTE:
(In Microsoft IE browser, You can view larger image slide show by
clicking right lower box on photo, while it is playing, or pause
the show. In Netscape browser, the slide show will
show actual size , usually about 640 width)
AVAILABLE FOR VIEWING NOW !
VIDEO on HOYT's in STANTON, MI - 22.1 MB's
(Warning - if you have just a Regular 52 K Phone lIne - it might not be fast enough & will take a long time to upload)

VIDEO on HOYT's in REMUS, MI - 28.4 MB's
(Warning - if you have just a Regular 52 K Phone lIne - it might not be fast enough & will take a long time to upload)


To download & view on your own PC,
WMV file for Downloading by Right Clicking the below links:REMUS & STANTON & MUIR
- Video's in WMV Format
(Click above image to View Video in Netscape 6.2 or 7.0-You may have to select a Viewing Format -
Windows Media Player / WinAmp3 will play the 28 & 22 MB & MUir 83.3 MB's (.wmv's) -- Right Click to Stop in IE)
* WARNING - MAY TAKE A WHILE TO UPLOAD VIEWING OR DOWNLOAD FILE--PLEASE BE PATIENT
(Stanton & Remus MI Zipfiles for Viewing or Downloading)


STANTON MI ZIP FILE - 5.9 MB's
(Stanton Maps & Montcalm Co Deeds)

REMUS MI ZIP FILE - 4.7 MB's
(Some Old Maps & Photo's)

George G & Elizabeth Adell/a Hoyt - 6.1 MB's
(Documeents & Photo's)

George Marcus Hoyt
- 2.9 MB's
(Oldest son George Marcus Hoyt in Saline, Remus, Suttons Bay, MI MI Legislature & Druggist in Traverse City, MI)

Carrie Melvina Hoyt - 0.8 MB's
(m. William Dana Colegrove in Remus, MI &
Home where she grew uop & worked)


HOYT RE-UNION;S in REMUS & CLINTON, MI

Please Email me for some of these (.zip) files that may not link..
===========

***NEW VIDEO'S of NOV. 2002 OF HOYT ROOTS***
of STANTON, REMUS, & MUIR, MI
( Hoyt's in Clinton, Deerfield, Tecumseh MI Videos to be done in 2003 )
( Hoyt'a in New York State and CT to be done in 2004 )
===========
( Please write or E-mail for a Cd of each, or All., include address )
Videos in (.avi) and (.wmv) formats
-----------------------------
=================================================.
NEW - George G Hoyt - USA 1889 Homestead Land Patent (.gif) (.pdf) Elm Hall, MI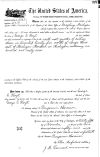 STANTON, MONTCALM CO., MI PLAT MAP OF 1897




Hugh Percival Hoyt in Stanton, MI about 1895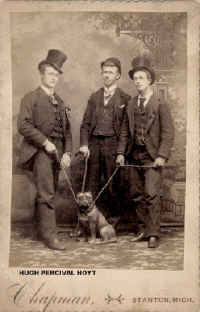 (Cluick thumbnail to view larger image)



View 2002 of Stanton, Montcalm Co, MI

Stanton Milling Co, Stanton, MI circa 1890's
(Click to View Larger Image)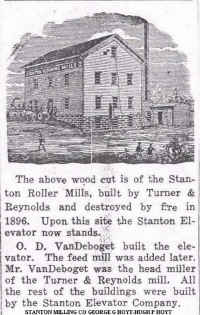 Elizabeth Adellia (Gerould) Hoyt (Through the years)
| | |
| --- | --- |
| | |
| Elizabeth Adelle (Gerould) Hoyt | Elizabeth Adelle (Gerould) Hoyt in Remus, Mi |


MAP OF REMUS, MI circa 1900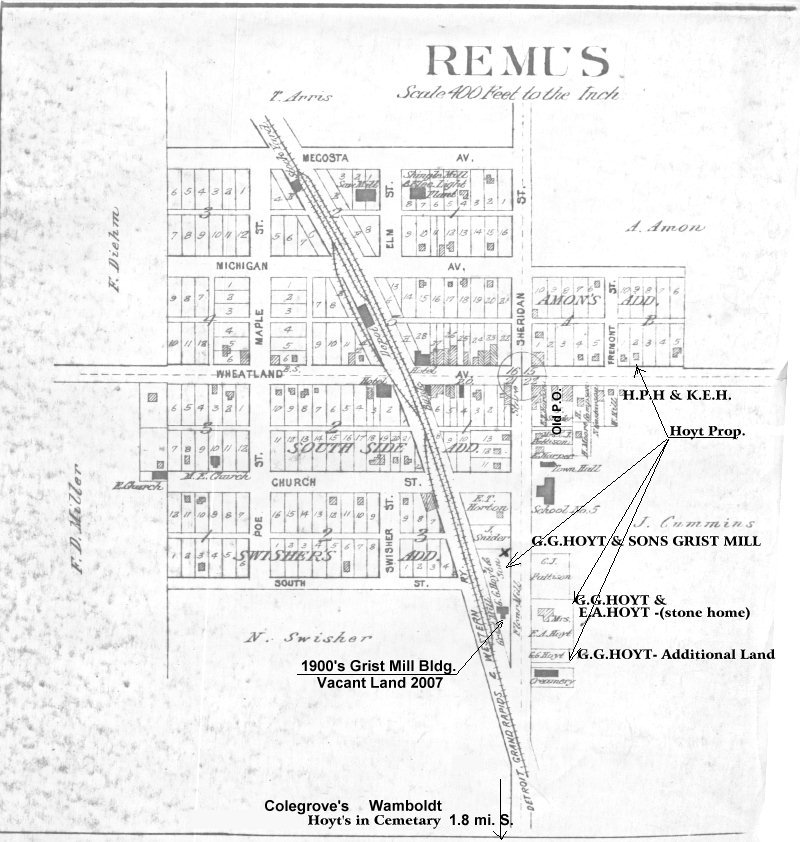 ====================================
Old Hoyt / Colegrove Homes in Remus, MI of Today
Wm D. & Carrie (Hoyt) Colegrove
335 S. Sheridan M-66

Hugh P. & Katherine (Hoag) Hoyt
East, 2nd Blk, M-20

G.G. Hoyt & Sons Grist Mill property 1900 ,ap shows Mill bldgs here
S. Sheridan M-66

Wm D. & Carrie (Hoyt) Colegrove
333 S. Sheridan, M-66



G.G. HOYT & SONS Milling CO., Remus, MI, circa 1904
****NEW ****
3 OLDER IMAGES OF THE REBUILT REMUS GRIST/FLOUR MILL ON G.G.HOYT MILL SITE:
(Click to View Larger Images)
~~~~~~~~~~~~~~~~~~~~~~~~~~~~~~~~

George G & Adeline Hoyt circa 1908 - Remus, MI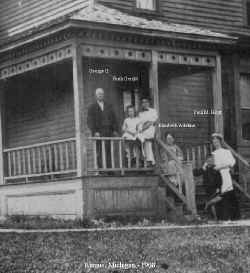 (Click Thumbnail to view larger image)


>>>>>>>>>>>>>>>>>>>>>>>>>>>>>>>>>><<<<<<<<<<<<<<<<<<<<<<<<<<<<<<<<<<
New Addition
REMUS AREA CENTENNIAL BOOK 1877 - 1977
PAGES WITH HOYT'S & COLEGROVE'S LISTED
Cover, Pages 75, 78, 120, 120a, 126, 128, 129
(Click above Highlighted page number to view)
*Credit to Ray & Ann Simon Renus, MI, for the extra Centennial Book -jeh

>>>>>>>>>>>>>>>>>>>>>>>>>>>>>>>>>><<<<<<<<<<<<<<<<<<<<<<<<<<<<<<<<<<


NOTE: (In Microsoft IE browser, You can view larger image in slide show by
clicking right lower box on photo, while it is playing, or pause
the show. In Netscape browser, the slide show will
show actual size , usually about 640 width)

George G. Hoyt's Death Certificate
(Click thumbnail to view large image)


HOYT - GEROULD Gravesite in Mecosta Co., Wheatland Township, WAMBOLDT CEMETERY, Remus, MI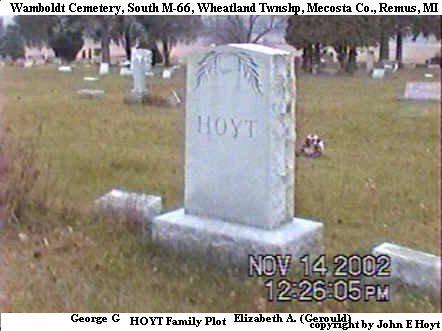 (Click HERE or photo above to View Slide Show of Clinton & Remus Cemetery's 25 images - 2002)
------------------------------------------
View 48 Image Index of Cousins cleaning & photographing

Wamboldt Cemetery of Hoyt's & Colegrove's & Village of Remus, MI - 03-29-2007
L. Hoyt of Wyoming, MI
Pruning bush at Hoyt Stones

J. E. Hoyt of Rockford, MI
Standing at Colegrove stones
========================