SIMON HOYT/E PAGE

(Note: The Thomas Hyatt & John Hoyt/Haight & Heyde & Hite Lines are not Listed here, as they are totally seperate Family Names & Lines, wholly unto themselves, by Lineage & by y-DNA differences, exceptions would be documented adoptions.)
http://www.packrat-pro.com/ships/abigail.htm
Haight, John Abigail 1635 (Fisrt mention of a John Hoyt)
Haight, John, from Dorsetshire, bound for Salem 1629. Ref: Hist Rec of Putman Co., NY pg 452. 36 page 37.
-----------------------------------------------------------------------------------------
Simon Hoyt and his "Wanderlust"
Sent to me by Karen Hoyt Johnson
======================================================
U.S. Internet Genealogical Society
The Winthrope Fleet of 1630 - Book online
The Lyon left the Bristol, Thames, Gravesend, England April 5, 1629 along with five other ships, George Bonaventure, Four Sisters,
Lyon's Whelp, the Mayflower and the Talbot, arriving in Salem late May or June 1629.
SIMON HOYTE
Born
Died 1 Sep 1657
English Origin West Hatch, Somerset
Came to New England 1629
With the Higginson-Skelton fleet
Resided in Charlestown, Dorchester || CT 1639
Freeman of MBC May 1631
Occupation
First Spouse unk (d c1625)
Children Walter, Nicholas, Alexander, John
Second Spouse Susannah _____ (c1608 - a1674)
Children Mary, Moses, Joshua, Miriam, Samuel, Benjamin, Sarah
------------------------------




New EARLIEST HAYTE, HOYT/E RECORDS FOUND THUS FAR, AS OF OCTOBER 2008
Earliest Records & Sources: (.htm) , (.pdf) , (.rtf)
---------------------------------------
b. 20 Jan 1590, West Hatch, Somerset Co., England, Occupation - Tenet Owner West Hatch, UK,
Emigrant Settler/Farmer-Charlestown, Dorchester, Scituate (Goodman Hoyt), Windsor, Stamford

d. 01 Sep 1657 Stamford, Fairfield Co., CT America (* No Burial spot as been found)

m. 1st Jane Stoodley, 1617 at Marshwood, Dorset Co., England *

m. 2nd Susannah ?Smith? abt. 1632 prob Scituate, Plymouth Colony, MA

View My Family Tree Chart for further data
Jane Stoodley m. Simon Hoyt/e Connection to the Hawkchurch, Dorset, UK
Please read bottom of page box on Simon Hoyt & Jane Stoodlie.
* John E Hoyt, (Author) is the 14th Generation Of Known English Roots
=============================
Further Research Site
Library of Congress/gov Publication Lists & Resources
for Immigrants Arriving by Sail or Steam
=======================
***NEW****
Latest Research Article from the "DFAW" on Mathias & Nicholas St. John/Sension Lineage of England,
may be of the Santken Lineage families of Antwerp in 1500-1600's...
250 ENGLISH SHIP's LISTS STARTING IN 1602-1638

*57 SHIPS LANDED IN AMERICA BEFORE THE MAYFLOWER FLEET on Nov. 11, 1620

Lost Colony of Roanoke (John White's 1587 trip with 150 passengers landing at Hatorask on July 22.)
HOYT's Listed in CT
http://www.rootsweb.com/~ctfairfi/stamford/hoyt_barbour.htm
=============================
New Research
(according to Robin Bush's new Found Hoyt Surname Research (1995), of Thomas to Michael to Simon to Walter & Nicholas Hoyt, Hoyte, Hoit, Hight's in South Petherton/West Hatch, England, rather then HHH Books having them in Church of Upwey, Dorset Co., Dorchester, UK for the John Hoyt/e)--Click this Highlighted paragraph to -- View -- New Research Web Page.

AND NEW DNA Testing Results, support this view, John Hoyt/e (0001) (b, 1610-1615), showing up in Salisbury-Amesbury, MA. &
Symon Hoyt/e (2601) (b. 1595-1600), landing in Salem-Charlestown, MA.- Windsor, CT; leaving Upwey, Dorchester, Dorsetshire, UK on Ship Abigail or The George, 1628-1629; are NOT related. goto: Hoyt DNA Page to view all the Haight, Hite, Hight, & Hoyt DNA Evidence.
Simon Hoyte images from * HHH BOOK (2601) of 1871
(pg. 286), (pg.287), (pg.288), (pg.289), (pg.290), (pg.291), (pg.292)
*HHH Book = "The Genealogical History of the Hoyt, Haight, & Hight Families of America, by David W. Hoyt, published by Providence Press, Boston, 1871"
'Our' Simon Hoyt/e Family Tree (2601)-(4322)
HHH Inside Cover David W HOYT1
HHH pg 286-287 Simon (2601)
HHH pg 296 Nicholas (2603) & Susanna Joyse
HHH pg 316 David (Dea & Lieut (2618)
HHH pg 328 Children of David (2618) & Mary Hoyt- pg 329 Benjamin Luiet) (2685)
HHH pg 352 Children of Benjamin (2685) Benjamin & Sarah Hoyt-Benjamin (2871)
HHH pg 389 Children of Benjamin (2871) & Patience (Smith) Hoyt
HHH pg 390 Timothy (3341)
HHH pg 452 Children of Timothy (3341) & Dolly (Olmsted) Hoyt-Jonathan (4322)
After * 1871 HHH Book Publication Family History:
Jonathan (John G) Isadora S. (Van Wie) Hoyt,
George G & Eliz. Adell (Gerould) Hoyt & Siblings
G. Marcus & Abbie (Rose) Hoyt & Siblings
Hugh P. & Katherine E. (Hoag) Hoyt & Siblings
Elizabeth I. (Hoyt) & Egbert.E. Fell & Siblings
Carrie M. (Hoyt) & William Dana Colegrove
* SIMON HOYTE's - FIRST MARRIAGE - CORRECTION
Note#1 -Bush found a marriage record at Marshwood, Dorset, of Simon Hoyt and Jane "Stoodlie" in 1617. Marshwood is not so far from West Hatch (about 10 miles) to negate the possibility that this couple had Walter and Nicholas, but Simon was otherwise in West Hatch. Marshwood records reveal only that there were Stoodley (variously spelled) baptisms in the early 17th century, indicating that Jane's family probably was established in the area when she was married. (14) John Stoodley was among the free tenants of Marshwood manor in 1626-41 and Walter Stoodleigh was a member of the homage jury for Whitchurch Hundred, near Marshwood, in 1626. Given the appearance of Walter among Simon's children, perhaps Walter Stoodleigh was Jane's father or brother.
Research by Robin Bush Web Page URL: http://dougsinclairsarchives.com/hoyt/shoyt.htm
Now link of web page at: simonhoyt.com/bush.htm

Note#2 -Go to Web Site for more information on the Stoodley family of Hawkchurch, Doset Co., UK at: http://homepages.rootsweb.com/~legends/stoodley.html
if above web site is not available, please go to simonhoyt.com at: http://www.simonhoyt.com/Stoodley - Studley of Hawkchurch-Dorset-UK.htm John E. Hoyt
MARRIAGE: Married: 4 NOV 1617 in Marshwood (Bridport), Dorset, England 15
Married: BEF. 1618 in Marshwood, Dorset Co., England
MARRIAGE: Fritz Knapp, Descendants of Simon Hoyt:
Simon is also said to have had a first wife, Deborah Stowers, daughter of Walter Stowers. This has been proven to be in error and the first wife of Simon Hoyt is now proven to be "Jane Stoodlie ". [Hoyt's Issue, Spring 1997, :1358]. [see GMB, II:1032 for explanation
pertaining to second wife's maiden name, which is not "Smith".] Her maiden name remains undiscovered. The reference in early records to "the Smith" was reference to the village "Blacksmith" not to the maiden name of 2d wife, Susanna(h).
MARRIAGE: Early writings claim Ruth and Deborah as being children of Simon Hoyt. Without the Upwey dates previously claimed and found in error, there is no evidence to conclude that they were daughters of Simon Hoyt.

**NEW** Google Earth Map of Simon Hoyt/e (2601),

(*) Simon Hoyte's Ship - Correction
Simon came over on the ship: "Lyon's Whelp",
not the ship, "Abigail"
see below
The Lyon's Whelp left the Thames, Gravesend, England April 5, 1629 along with five other ships, George Bonaventure,
Four Sisters, Lyon, the Mayflower and the Talbot, arriving in Salem June 1629. --> Known Passengers:
Thomas Minor
Another Web Page & Diary Account of Lt. Thomas Miner of the Lyons-Whelp & sister ships
AN EXCELLENT ACCOUNT of SIMON HOYT FAMILY
http://minerdescent.com/2010/10/27/simon-hoyt/#comment-19638
(Appears on the passenger list of The Lyon's Whelp, 1629 Listed as a Planter with the Winthrop Society)
Ralph Sprague
(Have information on Ralph Sprague, wife, children & 2 brothers. I live 3 towns away from Malden, Massachusetts & have a lot of hard copy material I'm willing to share. The family did come from England on the Lyon's Whelp. I have a hard copy of the passenger list from the ship & willing to share. Have 2 friends that are from the Bartlett family or connected the Barlett family in Plymouth that are related to 1 of Ralph's brother's. Willing to have them contact anyone to share information.)


Hugh (Tilley) Hillier
came to Salem, Mass., from Somersetshire, England on the ship Lions Whelp, which sailed from Gravesend April 25, 1629 with about 40 planters out of the counties of Dorset & Somerset. He arrived at Salem, Mass. in mid-July. Hugh came under the name of Hugh Tillie, bound for Salem. He moved from Salem to Yarmouth in 1639.
Symon Hoyte
MIGRATION: 1629 - SHIP: "Lyons Whelp" [Hoyt's Issue, Spring 1997:1358]
Simon HOYT/E of West Hatch, Somerset, to Charlestown, MA, on Lyons Whelp.
He moved to help settle towns of Dorchester and Scituate, MA, Windsor and Fairfield, CT, and finally Stamford, CT.
William Dodge
arrived 1629 on the Lyon's Whelp to Salem.
http://rjohara.net/gen/immigrants/
Walter Palmer became very prominent in the affairs of Charlestown, holding public office and is listed among the first group of men who took the Oath of Freemen on May 18, 1631. The original list included, "Mr. Roger Conant, John Balche, Ralfe Sprage, Simon Hoyte, Rick: Sprage, Walt (Walter) Palmer, Abraham Palmer, Mr Rich: Saltonstall, Rich: Stower, Czekiell Richardson, Wm Cheesebrough. Walter was married for a second time to Rebecca Short of Roxbury on June 1, 1633. They were married in Roxbury Church, of which she was a member and Rev. John Eliot its Minister. She was one of the first members of his church upon her arrival in America in 1632. Roxbury was generally settled by the people from Essex and Hertfordshire under the leadership of the Rev. John Eliot who had been the Vicar of Nazeing. Reverend Eliot's records of the Roxbury First Church state: "Rebeckah Short, a maide srvant, she came in the yeare 1632 and was married to Walter Palmer a Godly man of Charlestown Church." Rebecca was to give birth to seven additional children giving Walter a total of twelve.
Lyon's Whelps Ship
http://homepages.which.net/%7Ej.wassell/whelps.htm
http://www.portlandyacht.com/lionswhelp/1629/Investigate.html

The Lion's Whelp of 1628 was built at the Duke of Buckingham's expense by William Castell of St. Saviour's, Southwark in 1628 and was used to prey on French shipping (with the proceeds going to the Duke's war-chest) before joining the rest of the English fleet for the final attempt to relieve the siege of La Rochelle. She was taken into the Royal Navy after the Duke was assassinated and in 1632 the Crown reimbursed his estate.
Lion's Whelp was a three-masted pinnace of about 140 tons, having one gun deck with a grating or flying deck over the waist and eight broadside gun ports. She was equipped with sweeps (3-man oars, like a galley) and was part of a line of auxiliary-oared warships running from Henry VIII's time to the "Galley Frigates" of Charles II's reign.
Mary Hoyt, Simon's Daughter, married Luke Hill.
http://ftp.rootsweb.com/pub/usgenweb/ct/ctstate/books/hill51.rtf
Banks (Ref. 28) lists Simon Hoyt (or Haight, or Hait, or Holt) as arriving on either the ship Lions Whelp from the English parish Upway bound for Charleston and Salem Mass, or the Abigail (1629) bound for Dorchester and Windsor, Conn. (ref. Historical Record of Putnam Co. NY).
http://www.stoningtonhistory.org/archiv4.htm A Good History of the Early Settlers of these towns.
=========================================================
*****NEW 2017*****
SIMON's DESCENDANT - ENGLAND to AMERICAN WEST - OVANDO HOYT of OVANDO, MONTANA
A PART 1 SERIES OF 3 FILMS ON OVANDO, MT
https://www.youtube.com/watch?v=fw00HHY8x_I
Sheri Ritchlin's Email to John E. Hoyt (Author) on 01-23-2017
OVANDO, MT
Dear John,
I hope this reaches you from snowy Ovando, Montana--town of 50, founded by Ovando Hoyt! In my opinion, the greatest little town in the world (and I have lived in many places in this country and abroad.) In fact, I have enjoyed living in the town so much that I wanted to give something back. I am the town's recluse writer, living above the Stray Bullet Cafe, so I am not as active in community events as I should be. My give-back is a gift to our wonderful museum and historical society. I am only an amateur videographer but I've taken on a History of Ovando in 3-parts. Part 1 is "Simon Hoyt's Legacy." You can imagine that your Simon Hoyt website was invaluable to this project. I think you will enjoy it.
I would love it if you could share this video link on your website and with any Hoyt family descendants. You could also send me a list and I would email them with this as well. As you know, Ovando was the son of Azor and Minerva Hoyt. He was quite a remarkable fellow, as you will see in the video. Minerva is buried right here in Ovando!
Please encourage "Simon's Family" to pay a visit to this great place. They would be welcomed by everyone in our friendly little town: Our Blackfoot Mercantile and Commercial Company and Inn (lovely rooms available: http://www.ovandoinn.com/), Stray Bullet Cafe (breakfast and lunch), the Blackfoot Angler (except in winter), the Brand Bar Museum and Trixi's Antler Saloon. We have a splendid school--K-8--about ten children. Ovando lies in the Blackfoot Valley at the edge of the million acre Bob Marshall Wilderness. Anywhere you go from here is beautiful and there are plenty of good fishing places. Folks at the Blackfoot Angler can help you. Check in with Fred or Leigh Ann at the store and make yourselves known!
Here is the YouTube link: https://www.youtube.com/watch?v=fw00HHY8x_I
If you search the site on Google, please make sure that it is the version with the ".rv" after it. I have copied this email to Terry Sheppard who is the Historical Society person to contact in the town. I'm sure that she would like to hear from you.
My best regards to you and your family and gratitude from all of us for your terrific website.
Sheri Ritchlin
Visit the new expanded website at
Sheri Ritchlin's Indranet
* NOTE: Response from Author of this Simon Hoyt Families Branch Website!
I urge ALL EXTENDED HOYT FAMILY MEMBERS, to Please WATCH this Wonderfully produced video, as Sheri explains the ENGLISH HISTORY & TIMELINE for Simon Hoyt/e family of coming to America & descendants to the Amerixcan West, from "Shore to Shore" of our Country, during the pioneering days of hardship and wonder for our Simon Hoyt's, particularly of Ovando Hoyt & his silbling families born in Deerfield & area of Franklin County, MA (famous for the 1704 French-Indian Masacure), and died in Ellensburg, Kittilas Co., Washington... Also click onto Sheri's website INDRANET link just above, a Wonderful Collection of Videos & Listening & Radio programs, etc.. J.E. Hoyt

=======================================================
| | |
| --- | --- |
| | |
| Simon Hoyt Migration - Mass. Bay Colony Map of 1766 | Simon through Timothy Hoyt - Colony Map of 1776 |
(Click above thumbnails to view larger image) .
Puritans-pg-11, first, then Congregational, Baptists, Quakers, Shakers & Mormons.
SIMON HOYTE & FAMILY, SETTLING TOWNS of:
Charlestown, Watertown, Dorchester, Scituate, MA, Windsor, & Stamford, CT
------------------
Early Settlers Map of Watertown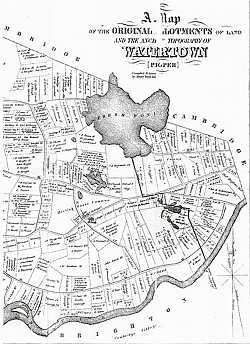 Cick above image to view Large Map
--------------------------------
Charlestown, MA
MA Early Vital Records - John Slaughter
(But, Most Vital Records are of the John Hoyt Branch, Salisbury, Amesbury)
History
Charlestown began as an independent community, founded by English colonists before they established Boston across the harbor on the Shawmut Peninsula. Severely damaged by fire following the Battle of Bunker Hill in 1775, the once thriving colonial town was rebuilt after the Revolution and became the center of transportation and maritime industry in the 19th century. Annexed to Boston in 1874, Charlestown today is noted for its exceptionally rich collection of historic houses and industrial buildings.
The Beginning of the Bay Colony
As the Massachusetts Bay Company prepared for its massive migration to New England, it dispatched engineer Thomas Graves* from England in 1629 to lay out a town for the settlers. Graves* was attracted by the narrow Mishawum Peninsula between the Charles and Mystic rivers, linked to the mainland at the present Sullivan Square. The area of earliest settlement, at Town Hill (now called City Square), still retains the elliptical street pattern that Thomas Graves* laid out.
http://www.charlestownonline.net/history.htm

* Note: Mr. Graves is mentioned in the Hoyt Book of 1871, on pg. 286 (Simon Hoyt page 1)
History of Dorchester, MA
http://www.hti.umich.edu/cgi/t/text/pageviewer-idx?c=moa;cc=moa;idno=ake5680.0001.001;q1=Dorchester%20antiquarian;frm=frameset;view=image;seq=34;page=root;size=s
-------------------------------
Goodman Hoyt/Haite- Scituate, MA (Simon Hoyt & Family)
Goodman Hoyt/Haite

Scituate Early Families 1623 - 1640 Family # 49

1st. Generation

Goodman Hoyt
b. ??
d. ??
m. ??
children: No record

Was in Scituate in 1631, also a freeman, had a lot on 3rd. Cliff and a house lot on Kent St. and a third lot on Greenfield Lane.
Traces of him disappear after 1636.

Reference: "History of Scituate" by Samuel Deane

http://scituatehistoricalsociety.org/early-scituate-families/

George Bower was listed as a freeman, 1636/7. By 1636 he was the owner of the sixteenth house built by "Goodman" Haite (probably Simeon Hoyt). Bower may have relocated to Plymouth by 1639 as he was granted land there by Gov. Winslow (PCLR 1:52). John Lothropp styled him as "'Mr."

Early Scituate, MA - Mid-1600's
Hoyt Book of 1871 - Simon Hoyt/Haite/Haight (2601)
Pages 286, Page 287, Page 288. Page 289, Page 290. Page 291, Page 292
Symeon Hayte & wife joined Scituate Church in, April 19, 1635.page 287 in Hoyt Book 1871.
Goodman Haite's house was built in that town between Sep. 1636 & Oct. 1636
http://www.scituatehistoricalsociety.org/families_home.html (List of First Settlers)
http://www.scituatehistoricalsociety.org/families/HoytGoodman.htm (Simon Hoyt)
http://plymouthcolony.net/scituate/nehgr/009279.html
Scituate & Barnstable Church Records (1855 Pag, 279) - Entry #22.
http://plymouthcolony.net/scituate/nehgr/nehgr.html#scitgr
Scituate & Barnstable Church Records - page images.
http://plymouthcolony.net/scituate/nehgr/010042.html
Shows #20. Mr. Tildens...The Smiths... Goodmà (Female) Haits Brother -- Note: (Goodman is male)
(Another proof that Susannah, was a, Smith, marriage to Simon Hoyt/Haite, and that her father, Richard Smith, died in Wethersfield, CT after 1669)
--------------------------------
(Click above thumbnail image to view larger image)
Credt to the Phelps Family at: http://family.phelpsinc.com/geo/windsor.htm
ALSO, VIEW WINDSOR MAPQUEST & GOOGLE AERIAL OF 2006
| | |
| --- | --- |
| | |
| Descendant Founders of Ancient Windsor Member #1369 | Descendant Founders of Ancient Windsor - Certificate & Member #1369 |
To join and be a member of this special old Towne:
Contacts @: DFAW at link: http://www.societyct.org/windsor.php
Simon Hoyt/e came to America on the Abigail, (*Lyons Whelps), in 1628-29 and was in Stamford by 1649. He lived on the north side of East Street, which is now East Main Street. However, this section of Main Street no longer exists and is now occupied by the Landmark Square building complex and Stamford Town Center mall.
Simon Hoyt/e Lived in Stamford 1646-1657 till death
Early Stamford CT Settlers Map
Simon Hoyt/e in Center of above map
(Click above thumbnail image to view larger image)
Credit to: Stamford Historical Society;
http://www.ctgenweb.org/county/cofairfield/pages/stamford/settlers_page.htm
View, Mapquest of Stamford, CT, *Simon Hoyt Home & Hoyt St.
================================
JOHN SCOFIELD - CATHERINE HOYT HOME
- ARTICLE IN STAMFORD REAL ESTATE - AUG. 2006 -
Since I work in Stamford, CT (the Hoyts old stomping grounds), AND I happen to work for a real estate company, I noticed in our local paper here that one of your Hoyt ancestor's houses was up for sale. I've scanned in the article into three images for you. A very interesting writeup, indeed. Much family history is included, some of which you may not have (?)
Coutesy of Richard W. Buckley
==================================
On BURIAL SPOT for SIMON HOYTE
From: Historian, Stamford Historical Society
To: John E Hoyt
Sent: Thursday, April 16, 2009 4:01 PM
Subject: Re: Oldest Cemetery of 1600's
Mr. Hoyt: Unfortunately, there is only one known 17th century gravesite, for Rev. John Bishop.
There are no other known cemeteries or gravesite for early graves. Sorry we cannot be of help.
Grace Bounty
~~~~~~~~~~~~~~~~~~~~~~~~~~~~~~
HOYT FAMILY GATHERING 1866 PHOTO
(Click on thumbnail image to view a medium sized image)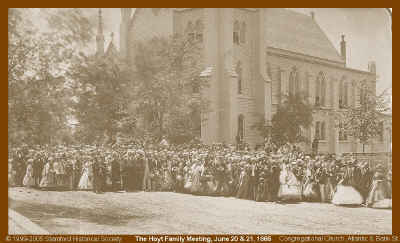 Hoyt Family Gathering 1866 Stamford, CT - Congregational Church
Timothy Hoyt's Eldest Son, Nehemiah, & Sons, Daniel & Wife & his son, Stephen C. Hoyt & wife attended & possibly are in this 140 yr. old photo
Hoyt (HHH) Book of 1871, Hoyt Family Meeting, Roll Call olf Members, at pages 229-235
Credit from Stamford Historical Society
http://www.stamfordhistory.org/ph_0402.htm
~~~~~~~~~~~~~~~~~~~~~~~~~~~~~~~
mich.edu
STAMFORD, FAIRFIELD CO, CT VITAL RECORDS
OF HOYTE, HOITE, HAITE, HAYTE, & HAIGHT'S - BARBOUR INDEX
http://www.rootsweb.com/~ctfairfi/stamford/hoyt_barbour.htm
Listed By Hayt, Hoyt, Hoight, Haight, Family Groups - Easier to fiqure out families.
http://rootsweb.com/~ctfairfi/stamford/hoyt_huntington.htm