-----------------------------
A bit of Recent Political History needs to be Told, below.
-------------------------------
(WE PRAY FOR THE ONES WHO HAVE BEEN AFFECTED WITH THE CORONAVIRUS PANDEMIC SWEEPING THE WORLD AND SEND OUR PRAYERS AND HOPES THAT THIS EVIL PLANDEMIC OF THE BIO-WEAPON FROM CCP & THE PCR TESTS & EXPERIMENTAL (GENE mRNA THERAPY) VACCINES & MASKS (MANDATES) WILL SOON BE ENDED AND THOSE FOR THE N.W.O., WILL BE BROUGHT TO SWIFT JUSTICE - NUREMBERG CODE TRIALS 2.0 - WE ARE AT WAR! )
OUR U.S. REPUBLIC OF 1776 WAS USURPED BY THE 1871 ACT OF ENGLAND & IN 1912 BY FEDERAL RESEARVE ACT, & BALFOUR DECLARTION OF 1917, OUR UNITED STATES HAS BEEN IN A "U.S. CORPORATION", BEHOLDING TO ENGLAND/U.K. USING "MARITIME LAWS", AND NOT "LAND OR COMMON LAWS", AS IT'S BEEN HIDDEN FROM IT'S CITIZENS. MAY WE RETURN TO OUR BELOVED UNITED STATES CONSTITUTIONAL "REPUBLIC"& "COMMON LAWS" SOON!
*** GREAT AWAKENING & GOD'S JUSTICE STILL COMING ***
We recommend Preparing for THE EVENT by having at least 2-3 weeks of food and water, batteries, flashlights, blankets, candles, solar panels, full tank of gas, etc.
We are witnessing The Liberation of Humanity. Our Transition to Greatness! The Best Is Yet To Come! We are transitioning from 1000 years of darkness to 1000 years of Light, Peace and Prosperity (NESARA / GESARA) on Earth. From Darkness into Light! This is Biblical! 6,000 Years of being controlled by Satan!
Nothing can stop what is coming. Nothing! MILITARY'S are the only way, with E.B.S./E.A.S. & WORLD-WIDE MARTIAL LAW. Where We Go One We Go All! Trust The Plan & Keep Your Faith. God Already Has Won! GOD GAVE HUMANITY, A SOUL & A LIGHT WITHIN & A CONSCIOUS with FREE-WILL & UNCONDITIONAL LOVE TOWARDS ALL OTHERS - NO MORE HATRED! - NO MORE DIVISION! - NO MORE CONTROLING OTHERS! FAITH, HOPE & LOVE!
THIS IS COMING IN 2023 &MORE!! HOYTS / HAIGHTS & ALL MATRIARCHAL FAMILES - REJOICE WORLD OVER!!
***NEW*** Edited 03/12/2023 J.E.HOYT
I ASK ALL FAMILY MEMBERS TO PRAY EVERYDAY FOR WORLD LIBERATION AS PAIN IS COMING TO EVERYONE TO AWAKEN TO THE TRUTH THAT WE ARE IN BIBLICAL TIMES - TO & FOR GOD, THAT THESE SERPENTS & DEVILS, HAS EXISTED FOR MILLENIA & NOW IT IS THERE TIME TO TRY & SUBJUGATE HUMANITY THROUGH THESE DIGITAL CENTRAL (CBDC) BANKING - REJECT THIS, AS THERE WILL BE A NESARA / GESARA QFS BACKED BY GOLD SYSTEM FROM UST. SOON TO COME IS THE HEALTH LAWS ENACTED BY 164 NATIONS FROM W.H.O. (A FEW NON-ELECTED OFFICIALS? = RED FLAG). & WANTS DEPOPULATION (GEORGEIA STONES), & A NEW WWW 3 WHICH IS IMMINENT, BUT WE OF FAITH & LOVE BELIEVE THAT GOD WILL INTERVENE, AT OUR PRECIPICE, AND CALL UNTO GOD TO DELIVER US FROM THIS EVIL!
Site Navigation / England Hoyte's / NEW Australian Hoyte's, Ireland, Overall, Cavenett / Cemeteries / Censuses / Simon Hoyt/e Family Tree Surname Index / Descendent's Outlines of Families Listed / Hite/Hoyt/e Haight DNA / Hoyt Migrations / Some Hoyt Stories / Our Simon Hoyt/e Families with Royalty, Charlemagne, Kings Queens, Egyptian Priests & Pharaohs, Biblical, Dividic, Mohammad-Islamic Prophet, Connections Tree Pedigree Index 124,482 & Large Family Tree Map / Timothy Hoyt's in Business / Authors Page / Slideshows & Gallery Index / Contact / My line Family Photo Slideshows on phanfare.com / My line Google picasaweb photo site /
Fun Quiz ./

Family Recipe Listings /
Famous Hoyt Brands Eli Wait Hoyt's German Cologne / F. M. Hoyt's Buffalo Brand Peanuts Are They related? No, both are related to the John Hoyt family lines.
BRAND NEW FOR 2018, 2019, 2020, 2021, 2022
PRIVATE - LIST OF PEOPLE & DOCUMENTS
UPDATED RECENT IMAGES ADDED FROM OLD CD/DVDs of 1998, (no longer available).
NEWLY LISTED - LAST 4 YEARS, SOME INDIVIDUALS HAVE 2022 IMAGES
(With USER & PASSWORD needed)

Click the text highlighted below CLICK ON one of many lists to view - User & Password box will Appear Please click above line for email.
A PRIVATE COLLECTION OF PHOTO IMAGES & DOCUMENTS LIST OF INDIVIDUALS & FAMILIES, MAPS, MIGRATION & PLACES OF OUR HOYT/E BRANCH - TIMOTHY HOYT (3341) & HIS CHILDREN, BENJAMIN W. & MOSTLY JONATHAN G. HOYT (4422) DESCENDANTS.
* (NOTE: FOR THOSE THAT HAVEN'T RECEIVED AN EMAIL NOTICE, YOU WILL HAVE TO EMAIL THE AUTHOR OF WEBSITE given above USER & PASSWORD Above. NOTE: Once you get in, the Usernane & Password should work, as long as you have this on your computer page. But if you want to Sign-In or Log-in again, after Closing, you should keep the Usernane & Password handy. J.E. Hoyt))
**(ALSO 2020 CHANGES HAVE BEEN MADE TO THE FAMILY HISTORY CHARTS FROM ROOTSWEB, AS ROOTSWEB HAS RECENTLY CHANGED THEIR URL BROWSER LINKS.)
(Note: The Thomas Hyatt & John Hoyt & Heyde & Hite lineages are not Listed here, as they are totally seperate Family Names & Lines,
by Pedigree Lineage & by DNA differences, exceptions would be adoptions & old records with Hoyt's, Haight's, Hoit's named Hyatt's, Hyott's,
These Surnames are part of the (R1b) John Hoyt families from Salisbury, Mass. NOT related to our Simonn Hoyt/e, Haight, Height, Hait, Hoit's
William Hoit, the administrator of the John Hoyt Family website & his email are now defunct, as of 06/03/2013
Our Ancestry of Simon Hoyt/e does NOT include the Deborah Stower Lineage, we believe there has been sufficient proof that she and her Stower line was NOT married to this Simon Hoyt/e. See bush.html on this research that Roy Olson & The Hoyt Family's of America", had also agreed & had published, to this research.
Latest Research Article from the "DFAW" on Mathias & Nicholas St. John/Sension Lineage of England, may be of the

Santken Lineage families of Antwerp in 1500-1600's...
Other Simon Hoyt/e, Haight, Hoit, Lines Listed +proved by y-dna - (See Below Same Title - w/ Drop-Down Box)
***NEW 2020***
(CHANGES HAVE BEEN MADE TO THE FAMILY HISTORY CHARTS FROM "ROOTSWEB", AS THEY HAVE RECENTLY CHANGED THERE

URL BROWSER LINKS BELOW.)
++++++++++++++++++++++++++++++++++++++++++++++++++++++++++++
~~~~~~~~~~~~~~~~~~~~~~~~~~~~~~~~~
****NEW****
2020
THE HENRICKS FAMILY HISTORY
by Donald G. Henricks
=======================================================================
(In Adobe format (.pdf) Click image or HERE to View or Download)
Includes family surnames: Henricks, Roeder, Tucker, Hardin, Hoyt, Tate, Horstmann
(Courtesy & Thanks of Don G. Henricks for providing his Research & family life.)
~~~~~~~~~~~~~~~~~~~~~~~~~~~~~~~~~
2019
(Click below thumbnail to go to Index of Pages.)
(Click below thumbnail to go to Index of Pages.)
**New** HOYT GENEALOGY courtesy by
Donne Puckle, AZ Compiled in 1952,
by Sara B. (Clark) Hoyt & Mary E. (Hoyt) Price;
includes family surnames: Brown, Clark, Foote, Hoyt, Puckle
~~~~~~~~~~~~~~~~~~~~~~~~~~~~~~~~~
~~~~~~~~~~~~~~~~~~~~~~~~~~~~~~~~~
2022 Christmas Cards & PhotoCards & Family & Friends Update Letters

to Author, John & Barbara Hoyt
*(COVID-19 PANDEMIC HAS PLACED A BURDEN ON UPDATES 2020 & 2021 & 2022)
=====================================
*****DNA*****
Hoyt, Hait, Hoit, Haight, Hite, y-DNA, mt-DNA, Autosomal Testing

Please use the www.familytreedna.com (FTDNA) web site to order your Hoyt test kit, then, if you have been tested as a Simon Hoyt/e Haight ancestor, we ask that you Join this Hoyt, E3b & BritishIsles II groups in your "myFTDNA" page.
And, you can also email me to have your Simon Hoyt/e, Haight, Hait, lines, posted here in the above dropdown box

++++++++++++++++++++++++++++++++++
FREE DOWNLOAD

A Genealogical History of the Hoyt, Haight, & Hight Families
by David W. Hoyt, Providence Press, 1871 (.pdf) format from Google - 22.5 MB's
+++++++++++++++++ +++++++++++++++++
(More -- Please scroll down)

You must be the change you
wish to see in the world.
Mohandas Gandi
"Legacy has to do with connections between generations and the passing on of gifts and qualities of character."
by Ann Edwards Anderson at the Memorial Service Euloogy of Aunt Ada (Hoyt) Verbryck, 10-24-2004

SIMON HOYT TRAITS BY PHOTO SLIDESHOW
============================
==================================================
=======================================================
*****NEW 2019*****
*****2018*****
HOYT REUNION -
JULY 28, 2018 N.B. CANADA
*****NEW 2017*****
SIMON's DESCENDANT - ENGLAND to AMERICAN WEST - OVANDO HOYT of OVANDO, MONTANA
A PART 1 SERIES OF 3 FILMS ON OVANDO, MT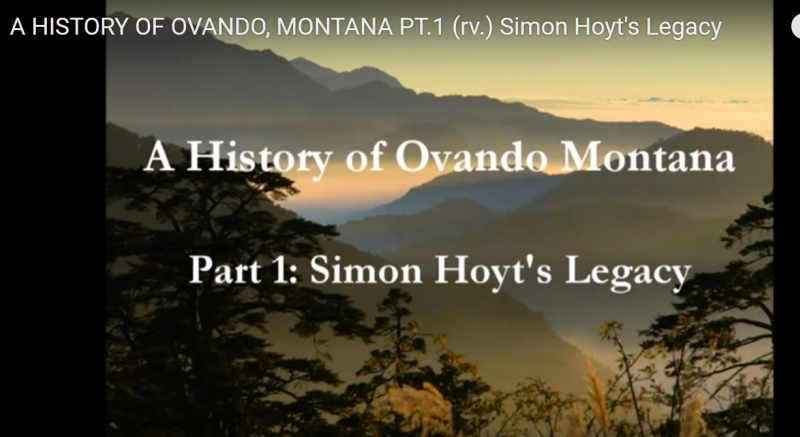 https:s://www.youtube.com/watch?v=fw00HHY8x_I
Sheri Ritchlin's Email to John E. Hoyt (Author) on 01-23-2017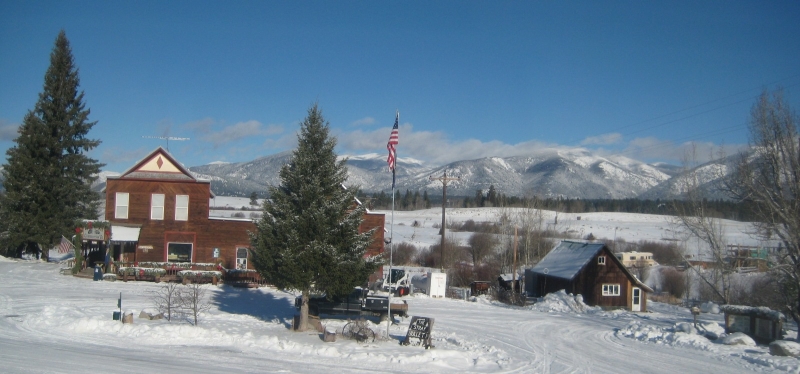 OVANDO, MT
Dear John,
I hope this reaches you from snowy Ovando, Montana--town of 50, founded by Ovando Hoyt! In my opinion, the greatest little town in the world (and I have lived in many places in this country and abroad.) In fact, I have enjoyed living in the town so much that I wanted to give something back. I am the town's recluse writer, living above the Stray Bullet Cafe, so I am not as active in community events as I should be. My give-back is a gift to our wonderful museum and historical society. I am only an amateur videographer but I've taken on a History of Ovando in 3-parts. Part 1 is "Simon Hoyt's Legacy." You can imagine that your Simon Hoyt website was invaluable to this project. I think you will enjoy it.
I would love it if you could share this video link on your website and with any Hoyt family descendants. You could also send me a list and I would email them with this as well. As you know, Ovando was the son of Azor and Minerva Hoyt. He was quite a remarkable fellow, as you will see in the video. Minerva is buried right here in Ovando!
Please encourage "Simon's Family" to pay a visit to this great place. They would be welcomed by everyone in our friendly little town: Our Blackfoot Mercantile and Commercial Company and Inn (lovely rooms available: https:://www.ovandoinn.com/), Stray Bullet Cafe (breakfast and lunch), the Blackfoot Angler (except in winter), the Brand Bar Museum and Trixi's Antler Saloon. We have a splendid school--K-8--about ten children. Ovando lies in the Blackfoot Valley at the edge of the million acre Bob Marshall Wilderness. Anywhere you go from here is beautiful and there are plenty of good fishing places. Folks at the Blackfoot Angler can help you. Check in with Fred or Leigh Ann at the store and make yourselves known!
Here is the YouTube link: https:s://www.youtube.com/watch?v=fw00HHY8x_I
If you search the site on Google, please make sure that it is the version with the ".rv" after it. I have copied this email to Terry Sheppard who is the Historical Society person to contact in the town. I'm sure that she would like to hear from you.
My best regards to you and your family and gratitude from all of us for your terrific website.
Sheri Ritchlin
Visit the new expanded website at
Sheri Ritchlin's Indranet
* NOTE: Response from Author of this Simon Hoyt Families Branch Website!
I urge ALL EXTENDED HOYT FAMILY MEMBERS, to Please WATCH this Wonderfully produced video, as Sheri explains the ENGLISH HISTORY & TIMELINE for Simon Hoyt/e family of coming to America & descendants to the Amerixcan West, from "Shore to Shore" of our Country, during the pioneering days of hardship and wonder for our Simon Hoyt's, particularly of Ovando Hoyt & his silbling families born in Deerfield & area of Franklin County, MA (famous for the 1704 French-Indian Masacure), and died in Ellensburg, Kittilas Co., Washington... Also click onto Sheri's website INDRANET link just above, a Wonderful Collection of Videos & Listening & Radio programs, etc.. J.E. Hoyt

=======================================================
R.M.S. Titanic- Hoyt Passenngers - Hoyt Ancestry Page
---------------------------------------------------------------------
-----
Click Here --&gt Hoyt's Listed -- view diff. Hoyt Letters to Abraham Lincoln, etc. these items located in the Library of Congress - Manuscripts, Papers, etc..
HOYT FAMILY GATHERING 1866 PHOTO
(Click on thumbnail image to view medium sized image)

Hoyt Family Gathering 1866 Stamford, CT


- Congregational Church

Our Timothy Hoyt's (4322), Eldest Son, Nehemiah, & Sons, Daniel & Wife & his son, Stephen C. Hoyt & wife attended & possibly are in this 150 yr. old photo

Hoyt (HHH) Book of 1871, Hoyt Family Meeting, Roll Call of Members, at pages 229-235

Credit from Stamford Historical Society
https://www.stamfordhistory.org/ph_0402.htm
======================================================
28th YEAR OF ONLINE FAMILY HISTORY
Check surnames at Simon's "Family Tree Chart" frequently,
as we are growing 500 - 1000 individuals per year!
(Note: in Jan '08, I added approx. 18,000 Simon Hoyt/e, Haight, Hoit, and their relations
from Stamford, CT Historical Society's gedcom files to my family tree pedigree pages.)
You can view Stamford CT Hist.Soc. files Link::
https://ldsgenealogy.com/CT/Fairfield-County-Histories-and-Genealogies.htm
Our Timothy Hoyt Pedigree Index has over 9,800 individuals
----------------
* ON SHIP's THAT MAY LOOK SIMILAR TO A LYON'S WHELP
Go to Simon Hoyte Page and our English Roots
For more information about the 10 Lyons Whelp's ships that were built, click link,.
Lyon's Whelp | Lyon Whelp (liquisearch.com) (Short History)
Click on the "Lyon Whelps" Highlighted.for it's STATS!

LYON'S WHELPS IN THE HIGGINSON FLEET (lists Hoyt, Simon)
https://en.wikipedia.org/wiki/Lyon%27s_Whelp
John Wassell, says in an email, "I do not claim that the picture you reproduce is of any Lions Whelp- only that it is contemporary and of similar size. Note that it bears the Royal arms on the stern, which merchant ships did not."
Also, John W. states in emails to me, "I am fairly certain that the Lions Whelp that sailed in 1629 was not one of the 10 Whelps built in 1628. It was either the earlier "Lions Whelp" I refer to in my article (link above), or a privately-owned merchant vessel of that name. If a ship owned by the State had been used it would have generated a lot of official paperwork relating to this use- and I am sure the settlers would have had to pay a higher rate to hire the ship including the crew's wages etc than for a privately-owned ship with no bureauocracy to satisfy.
Other problems-Whelps were each of about 186 tons burthen.
The State Papers record several Whelps as being under repair in late 1628 and 1629 after the rigours of the La Rochelle expedition in 1628.
No record of the voyage (so far as I am aware) notes that the Whelp was a King's Ship.
Another email from John Wassel. reads:

John, I don't need a copy of the list as my interest in 17th C naval matters has been dormant for many years- current interest is local history, especially of the area in which I live.
8 guns on the 90-ton Lions Whelp seems credible, as do the guns noted for the bigger ships. The guns mounted would be of small size and I doubt if even the larger ships noted carried anything larger than a 6 pounder. They wouldn't have had enough room or crew for larger guns, unlike the remarkably heavily armed 10 Lions Whelps with up to 70 men and usually 14 guns of various sizes from Sakers (6 pdr) to two Demi-cannon (32pdrs, not always shipped due to the weight). I do not have any data on the armament of the earlier Lions Whelp I mention. Regards, John Wassell


---------------------------------------
These two drawings below, are probably the nearest available contemporary images (apart from the Royal Arms on the stern) of the appearance of the ship that sailed in 1629, that is to say three-masted and one gun deck?

In his book "The Wooden Fighting Ship" E.H.H. Archibald drew a reconstruction of the whelps- it is generally similar to the ship in Verwer's picture. Both show the quarter-deck and foc'sle deck linked by a light deck or series of gratings where the sweeps would have been stowed. The main function of this deck was to cover the gun deck to prevent an enemy boarding or falling spars etc. causing damage.
====================================
What is a Grand-Parent! (.txt)
=========================================================
WAITE HOYT - FAMOUS NY YANKEES PITCHER OF THE BABE RUTH ERA
IS RELATED TO THE SIMON HOYT'S - (7th Cousin 1 times removed to author JEHoyt)
Waite Hoyt - NY Yankee

Waite Hoyt - Detroit Tiger

Waite Charles Hoyt - 1899-1984
Spring Grove Cem. Cincinnati, Hamilton, OH
***NEWS FLASH***
Famous Cable Fox News Commentator/Anchoman/Commentator, William J. "Bill" O'Reilly is a Relative of our Simon Hoyt Families! From Bill's mother's (Maternal) lineage, has an Abigail Hoyt b. 1658 Providence, R.I., and her Father, Moses Hoyt b. 1637 Dorchester, MA., Moses was son of our Immigrant, Simon Hoyt/e b. 20 Jan 1590,
PBS, "Finding Your Roots", with Henry Louis Gates, Jr. on 01/11/2016.
https://www.billoreilly.com/video/public-appearances?pid=20340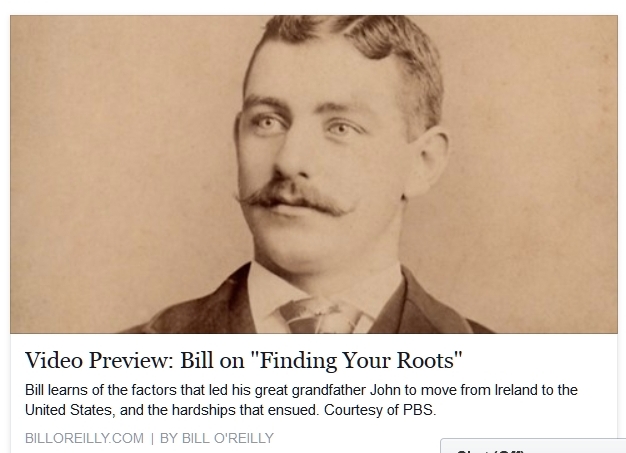 (Please click the link shown above, or click the image above, to take you to Bill O'Reilly's Online Web Page with the Video Shown, Click the"PLAY" (Arrow) on middle of video screen shown with the picture above. Also you may wish to CLICK on the tiny box to lower Right on video screen, to go to 'Full Screen'. Thanks & Enjoy jehoyt.)
View Bill O'Reilly's Paternal & Maternal Descendant Trees Here /or/ (.pdx)
The Author is in relationship to Bill O'Reilly:
John E. Hoyt and William Bill J. O'Reilly Jr. are 9th cousins 1 time removed.
Hoyt Heraldic or Coat of Arms information:
(Click onto below Coat-of-Arms, to Enlargen)
1 2 3 4 5
My Preferences is to use #2 Above = COA Page 1 COA Page 2 COA Page 3 COA Page 4
#2 - Use for Simon Hoyte, Hoyt, Haight, Hait, Height from Middle East & N. E. African

#3 - V.(Von) Hoyte - Use for John Hoyt Line from Germany

#5 - NEW English HOYT Plaque, wife surprised me for 65th BirthDay, UK Address
================================================================
© 2006 John E Hoyt NEW / Email / www.simonhoyt.com / 04/09/2023